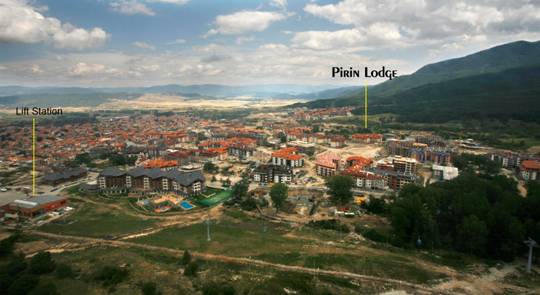 Pirin Lodge
A synonym for sumptuous country living with international standards of service and luxury.
Some of the Features of Pirin Lodge:
Aparthotel

Complex comprising 50 apartments

Top Location - Easy Walking Distance to ski lift, restaurants and amenities

All Apartments with cosy marble fire-places

All Apartments fitted with elegant bathrooms and top-notch kitchens

Magnificent

views

to

the

mountains

Private Cellars for storing skis and personal equipment

Central Laundry facility with washers and dryers
For your total comfort Pirin Lodge provides the following blend of individual charm and distinctive luxury:
Reception staff offering professional service and personal assistance

Lobby bar with plenty of ambience (and drinks)

Computer Corner with free internet access

State-of-the-art Wellness Centre with Sauna, Turkish Bath, Jacuzzi and Massage Room

A unique

Outdoor Lane for (Bavarian) curling in winter and (French)

Boule/Boccia

in summer
No need to mention that parking at Pirin Lodge is free, the gardens are landscaped and there is 24-hour security.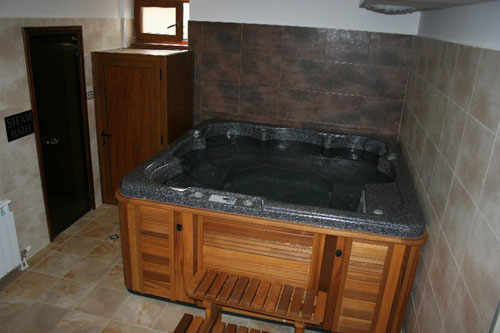 Pirin Lodge Whirlpool
To enable Pirin Lodge patrons to enjoy a night out without disturbing their neighbours there are hydraulic, noiseless elevators in all sections and the lobby bar is especially insulated.
All Pirin Lodge apartments are equipped with romantic marble fire places to burn logs (which can be ordered from the reception), cosy solid beech wood floors, elegant bathrooms and fully fitted kitchens.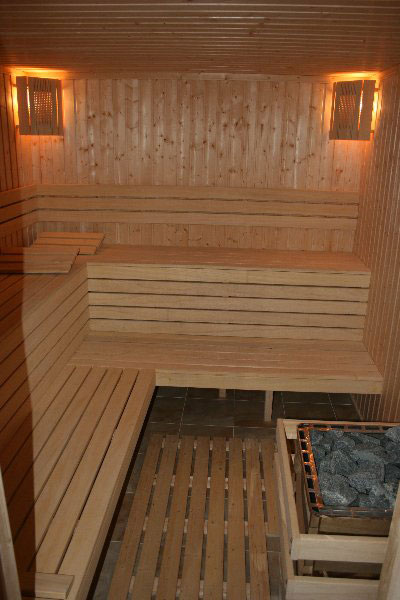 Pirin Lodge Sauna
For your entertainment all apartments have in-house cable TV outlets with international channels, LAN sockets with internet access and, of course, telephone plugs.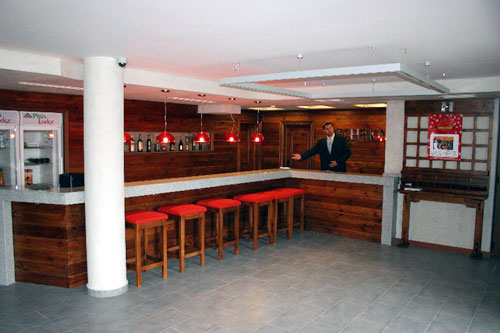 Pirin Lodge Reception
For your safety there are smoke detectors in every room, linked to a professional fire annunciation system near the reception.
Windows and balcony doors are of German high quality material with 5 insulation chambers to keep the cold out and maintenance cost down. Heating is supplied by a central heating facility in the basement to make sure that not only all apartments but also the common areas are comfortably warm. Hot water is produced directly in the apartment by high power German flow water heaters. They guarantee that you will be able to have a hot bath or shower at any time – even if you are the fourth in line in your apartment.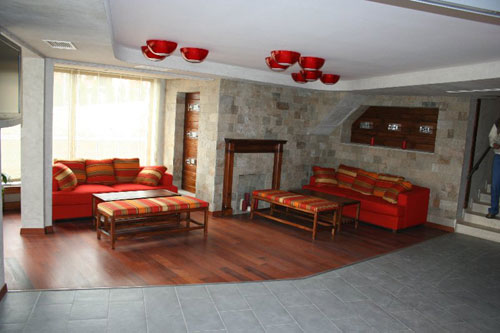 Pirin Lodge Lobby
Well, this could continue for a while. We are sure you will just love all the attention to details
Restaurants and pubs are in abundance close-by and you can easily walk to amenities like a new bowling alley, ice rink or even a casino in the neighbourhood.
Whether you want to buy an apartment as an investment or you "only" want to spend a great holiday, Pirin Lodge is Bansko at its Best.